Squarrel Square Barrels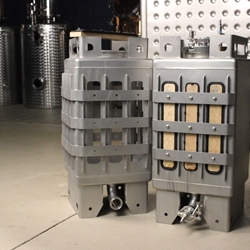 A Squarrel is a Custom Reusable Square Barrel
The exact amount of wood a barrel needs!
A Squarrel consists of a reusable metal frame and removable wood staves
A Squarrel uses 1/3 the wood of a traditional barrel
Lower cost of ownership!
Keep the frame and replace only the staves at a fraction of the cost of replacing a traditional barrel
Replacement staves come in shoebox-like shipments delivered right to your door greatly reducing transit costs
Infinite Flavors with Build Your Own Barrel!
Staves are available from multiple woods species, cross-cut or flat, and varying levels of toast and char
Use multiple different combinations of wood staves in the same Squarrel Barrel
A Squarrel is also a Keg!
Simply clamp on the Sanke-ed cap, it's complete with a PRV and the spear of course, and hook it right to your tap
Squarrels will soon be in stock at Minnetonka Brewing & Equipment Company. Check out
www.squarrelbarrels.com
for more info on this ingenious invention!
Categories
2 Categories In List
Products
3 Products On Page